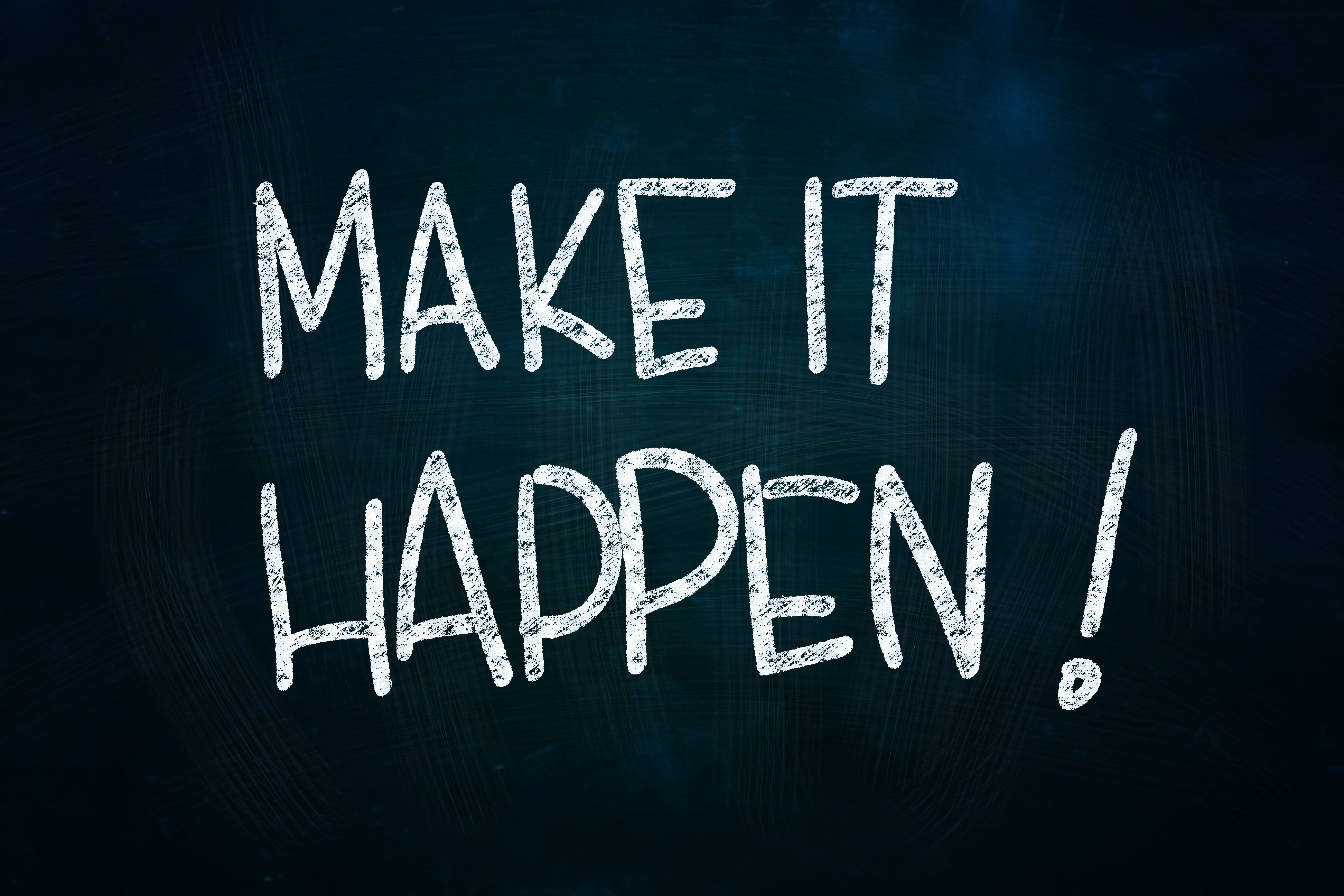 When it comes to trying something new or embracing change or facing our fears, I've come to realize that sometimes it's best and most successful to only commit to right now and short term. As in this day, this week, the next 2 weeks, the next month, or the next 3 months.
Because over-thinkers like myself, have a tendency to talk ourselves out of something before we even give it a chance.
How could this possibly work with my schedule?
What will I have to give up or change?
How will I be able to sustain this commitment?
Will this allow for flexibility in my life?
So let me walk you through my 5-step practical approach that I've used more recently when I evaluated whether or not to give CrossFit, skill-building and interval training boot-camp style workout, a chance. This approach I'll share can be applied to any change (or recommitment) you'd be considering, regardless of how daunting it may initially appear.
Step 1 – Let's take it back to the basics and the principle from my forthcoming book, Learn to love something you hate or what you are resistant to.
I paused for a few moments to ask myself, where is my reluctancy coming from? How can I see this differently? In what ways could this truly enhance or benefit my life?
For me, I saw how I was being reluctant to embracing CrossFit and making this commitment was coming from being worried. That this would force me to change my entire routine and give up my yoga, spin class and running, and my social life, or so I thought.
A few of my ambitious goals that got me considering, maybe I can find a way to make this happen:
• To deepen my yoga practice into handstands and headstands, by building my core and arm strength, and learning how to do handstands up the wall, like they teach in CrossFit.
• I'd also want to up my game in running and PR for my next Half Marathon.
Step 2 – Get real with yourself and those excuses that come up when considering the possibility of this new commitment or goal. Hold off on making decisions solely on all the reason why you tell yourself you can't.
Write it out or talk it out. Even better, talk it out with a friend or someone who has experience in what you are considering. Get the inside scoop before you take a step forward to feel more comfortable and know more of what to expect.
Step 3 – Do your Research, then evaluate further. Though wait on changing up your entire life. What are your opportunities, resources (money, time, support) available to you right now?
With CrossFit, I researched the gyms close to home and work, read up on the sites for the membership rates, the Coaches certifications, class schedule, testimonials, the size of the facility, and of course I checked out the Facebook pages of each gym. I wanted to get a better sense of how I'd feel working out there before I stepped into the gym.
Research takes some of the "unknowns" and makes them known facts. You'll begin to eliminate many of the excuses against your research and evaluation. You may still have a few excuses or ambivalence lingering, that's okay.
I began to see that I didn't need to quit the gym or yoga studio at this time. I began to see how the money was there and would be coming to me. I also realized that the gym reimbursement through my work would cover my 6 month gym membership. I began to see how I could work out my schedule to try this out. I began to get excited about it!
Step 4 – Commit to the Short-Term for now. Again, this means starting with today, one week, the next 2 weeks, or the next month. Then see if you can make a decision or feel you need more time.
When in doubt of whether to continue on or not, just commit to next level of short-term goal, and then evaluate again. Because many times, one day or one week, isn't enough time to really get a sense of how it's going to be on a regular basis or enough time to give you results you desire.
It was a great relief, when I realized I don't need to worry about my commitment years down the road. I can make a different decision later. I can change my mind or try something new later.
With CrossFit, it became that I just needed to focus on the next 2 weeks (unlimited trial membership), then the next 3 months when I committed and paid my membership. That seemed easier and practical to me.
Step 5 – Limit the change to one change at a time. Otherwise, it may be discouraging and even sabotaging. Because your attention and energy is scattered between multiple changes that it gets to be highly difficult to integrate all the changes at once into your life.
One step, one change at a time. Get comfortable in a routine with that change, then proceed forward with another change, if you desire.
******
I've been applying this principle of focusing on short-term goals to other areas and decisions in my life as well. Let me tell you that this simple approach has helped me immensely in staying focus in the now and worrying less. Also, having a fellow CrossFitter who's a Gerard Butler look-a-like adjust your form, is quite nice and encouraging, I must say.
What I know for sure is when I push myself out of my comfort zone physically, it always encourages me embrace another change or fear in my life that I've been dancing around. Reluctancy diminishes, with more confidence and enthusiasm to the next.
Really powerful work here, if you're willing to take the first step. Again, commit short-term at first. Long term progress will happen. Trust yourself. Give yourself permission to start!
Embracing a little more change into your life can be manageable.
May you Worry less, Show up more. Worry less, Allow things to work itself out. Worry less, Live more. Worry less, Laugh more. Worry less, Be more. Namaste loves!
Related Articles
Waking up to Your Life…
Growing into Your Purpose…
What I Admitted to My Dad about Love & Relationships…
Forgiving Myself…
* * * * * *
Sarina is currently working on her first book, Courageous & Remarkable Self: How to Take Risks, Live More Intentionally, and Travel the World Fearlessly.
Did this blog article resonate with you? Then like it, share it, and/or comment below. I personally respond to all comments on the blog. Also, be sure to Join the Courageous & Remarkable Self Movement–it's FREE! Sign up to make sure you're first to know about updates and C&R Self strategies. Also, be one of the first to get the Fearless World Traveler Checklist (my gift to you!) that I'm creating especially for you, Courageous & Remarkable One!
Thank-you for being part of the C&R Self community by reading and sharing your thoughts. I honor you. Namaste!
Let's stay connected!
Join the Courageous & Remarkable Self Movement.
So I can keep supporting you!