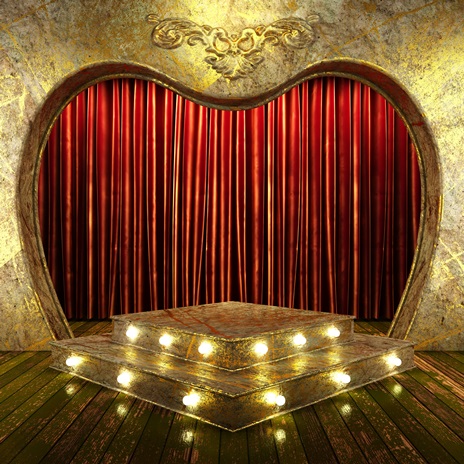 What if right now isn't your time to be in the spotlight? I know you might be thinking that's not what I want to hear. I can relate to that impatience or frustration as well. Later on here I share a personal story of how I was able to embrace the approach of letting someone else shine and how you can do the same.
For the moment though, honestly consider this possibility. Especially if you're seeking to climb to the highest level in your career/business or make a dream a reality or have that desired romantic relationship with a partner that truly knows and supports you.
You may actually be setting all the right intentions, taking all the right actions and even seeing results. You may secretly desire to be recognized as the expert, the athlete, or the project leader or all of the above. Maybe you've proclaimed this to everyone you know and who will listen.
Realize this. Magnificence lies in knowing when it's time to allow someone else to shine, rather than overshadowing their accomplishments with yours. Rather than trying to force the timing of when you want something to happen. Rather than monopolizing the conversation. And all while you focus on authentically being present in the moment, being genuinely happy for someone else, celebrating someone else's journey and accomplishments.
All while you keep sight of your path and continue to take action. All while you shift your attention to your personal development and getting to know yourself better.
In exchange for loving yourself more, you become more available to receive love. Letting go of what you can't control. Embracing uncertainty. Living more. Having a major breakthrough. Overcoming blocks in your way from really attracting what you want into your life. Until one day, you've become more modest and gracious.
This practice of shifting your focus to let someone else shine will Make your Inner Self Stronger so your External Self can shine brighter than it does right now.
Growing up I always strived to be the center of attention. And let me tell you, it would show up in different-not-so-pretty ways. Sibling rivalry was a big time one. I was seeking Acceptance. Confidence. Love. Reassurance. Approval. From my parents, my peers, my boyfriends, and anyone who I'd had yet to meet. Basically everyone. And more recently, I've come to appreciate more that it's not always about me.
About a year ago, Amanda, my sister, had declared her commitment of running the NYC Marathon before she turned 35. I had decided that my focus would be my book proposal, book deal and becoming a NY Times bestselling author. (Book proposal is done. Still working on finding the right literary agent and landing that traditional book deal.) You may already know that Amanda and I have ran many races together including the Cow Harbor 10k and the Hamptons Half Marathon.
Realizing that running a Marathon would compete for my energy of a book deal and other goals, I didn't commit to running the Marathon with her. I intentionally wanted that to be her moment of glory being a Marathoner and for her to have all the attention. I intentionally decided not to compete with her. I wanted to cheer her on the day of the race and be that crazy sister standing on the cartons of Poland Spring water jugs trying her best to capture the perfect race photo, alongside my dad and step-mom. I wanted her to wear that NYC Marathon medal proud after she crossed that finish line. I wanted her to have an accomplishment beyond anything I've achieved. I wanted all of that for her.
There's something so beautiful in seeing someone you're close to truly commit all the way through with a goal that is beyond their comfort zone. Holding nothing back and giving their heart, mind, and body to it. Simply Empowering! From this moment, I learned how to further embrace letting someone else shine. Amanda, you are one fierce woman and I'm so proud of you!
Take a C&R Self Mindfulness Moment:
Now it's your turn, consider how you've been competing with your siblings, friends, coworkers, and even significant other? How can you show up and allow these significant people in your life to shine? What can you learn from that experience of stepping out of the spotlight?
Would love to hear your thoughts! Remember there's something Magnificent in knowing when to allow someone else to shine. And when this is practiced, your attractiveness factor and your ability to attract what you want will come closer to you. Namaste loves!
Related Articles
Why I'm Letting Go of Long-Term Goals…
Waking up to Your Life…
Growing into Your Purpose…
What I Admitted to My Dad about Love & Relationships…
Forgiving Myself…
* * * * * *
Sarina is currently working on her first book, Courageous & Remarkable Self: How to Take Risks, Live More Intentionally, and Travel the World Fearlessly.
Did this blog article resonate with you? Then like it, share it, and/or comment below. I personally respond to all comments on the blog. Also, be sure to Join the Courageous & Remarkable Self Movement–it's FREE! Sign up to make sure you're first to know about updates and C&R Self strategies. Also, be one of the first to get the Fearless World Traveler Checklist (my gift to you!) that I'm creating especially for you, Courageous & Remarkable One!
Thank-you for being part of the C&R Self community by reading and sharing your thoughts. I honor you. Namaste!
Let's stay connected!
Join the Courageous & Remarkable Self Movement.
So I can keep supporting you!