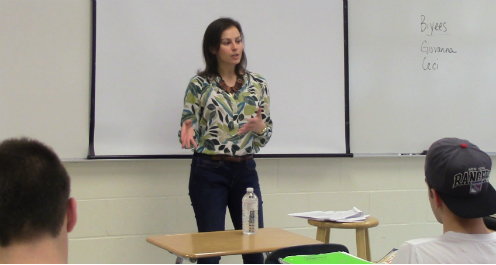 Impressive and so very fortunate! Those were my thoughts on learning how world traveled the High School Students are from Half Hollow Hills West when I spoke with them last week! I went in assuming I may need to convince them to get a plane to see another country. Well, I so underestimated the response I would get from asking the question, how many of you have traveled out of the country?
Nearly half the class of 40 students! And the places they've already visited: France, England, Germany, Canada, Czech Republic, Bulgaria, Israel, Germany, Mexico, Dominican Republic, and Aruba. One student has even decided to postpone college and enrolled into a year-long travel program!
Simply A-MAZING and such a courageous decision!
I continued on with the discussion sharing with the seniors how I've become a fearless world traveler, my reasons for travel, the awareness gained and my lessons learned along the way. Besides wanting to authentically experience different countries like something out of National Geographic, I also had other reasons that motivated me, which I disclosed.
For me, there have been times when the desire to leave the country came after a relationship break-up or if I felt like life wasn't going the way I had planned. I'd be seeking out a shift because I was feeling stuck in the same routine, looking for some excitement and change in my life. I also have traveled to reconnect to myself as an individual, to live my life with more purpose, and to get back my creativity.
The seniors learned how I traveled solo on group tours to developing countries in Southeast Asia and Central America and the culture differences between those countries and the US. And the seniors came to realize that nothing was going to stop me from becoming a Volcano Vixen in El Salvador and how I managed to face my fears while Ziplining in Costa Rica, after having a moment of heart palpitations on the zipline platform at cable #6.
What I wanted to get across to the students is what I consider the REAL definition of Adventures. Adventures is really about how you approach your life, where you go, what you do, the practice of stepping out of your comfort zone by trying something new. You need not to be an adrenaline junkie to experience adventures. There's the Right Adventure for all of us at different times of our lives.
Key Strategies / Thought Questions for Embracing Your C&R Self!
1. To live more intentionally, come from a place of thinking,
• How can I get to know myself better? Then take those actions to get you there. It's a continuous process and it's about always learning about ourselves and others.
• Really about getting yourself out of your comfort zone and doing something different.
Self-Awareness will benefit you in your life – with all relationships, at work/in your career, and getting what you seek and desire out of life.
Because if you don't really know yourself, what you want, or what's not working for you, then how the heck can you expect to get or accomplish what you desire?
2. I invite you to next time to approach any challenge or something you're resistant to by,
• Asking yourself, how can I make this an adventure and fun?
• How can I learn from this experience?
• When you do this, you'll learn how to thrive beyond your concerns, the issue, and get more out of the experience, than you originally anticipated!!
3. Live your life for a higher purpose. Listen for answers. Follow your intuition. You don't need to have all the answers. And you won't have all the answers. Just start somewhere. Start today. Live today. Dream big. Go after it!
Related Articles
How I became a Half Marathon Runner & Then got featured in FITNESS Magazine!
Learn to Love Something You Hate –Shift Your Life!
Manifesting Your Presence of Greatness!
Everywhere I go…
* * * * * *
Sarina is currently working on her first book, Courageous & Remarkable Self: How to Take Risks, Live More Intentionally, and Travel the World Fearlessly.
Did this blog article resonate with you? Then like it, share it, and/or comment below. Also, be sure to Join the Courageous & Remarkable Self Movement–it's FREE! Sign up to make sure you're first to know about updates and C&R Self strategies. Also, be one of the first to get the Fearless World Traveler Checklist (my gift to you!) that I'm creating especially for you, Courageous & Remarkable One!
Thank-you for being part of the C&R Self community by reading and sharing your thoughts. I honor you. Namaste!
Let's stay connected!
Join the Courageous & Remarkable Self Movement.
So I can keep supporting you!