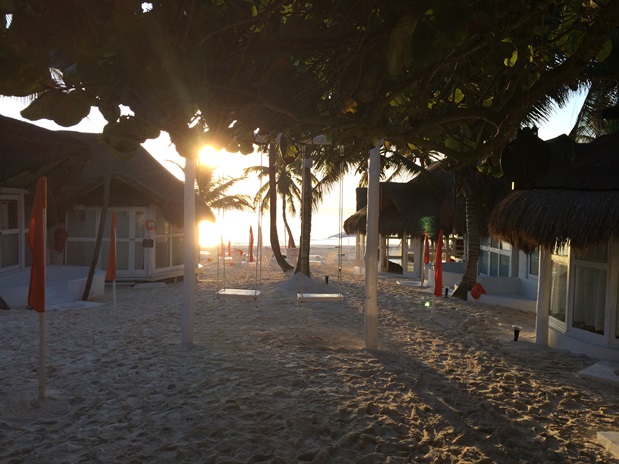 While on Christine Hassler's New Year, Be You Retreat in Tulum, Mexico last month, I allowed myself to indulge in a little Reiki healing treatment. It seemed like the perfect relaxing way to release any negative energy that may have been stuck in my body. It was my first time and I was really open to the experience.
Acupuncture is another holistic treatment that I've come to rely on over the years for a similar reason and other health reasons – sinus headaches, digestion troubles, healing of sprain ankles, to name a few. I was curious enough to compare the two treatments and to see how this could serve me well, whether it be a one time thing or something I'd continue with after the retreat.
To begin with, the Reiki Master did this scan of my body to figure out exactly where the energy is kind of not moving, before starting the treatment to get the natural flow going again. So about 90 minutes later, Reiki Master completed her healing work, and gave me verbal report of what she discovered and focused on.
I couldn't believe how accurate it was from what I already knew, besides the ah-ha moment that happened.
The Reiki Master shared with me how my energy seems to be stuck between the root chakra and my heart and how all my energy is in my mind and intuition. She confirmed for me that I'm not getting enough oxygen to support my body. I'm breathing shallow, rather than taking in enough of those big belly breaths that would circulate the energy in my digestion more effectively. I was told that I need to focus on grounding myself and being more in my body, because like she said, I'm on earth right now.
Layers of protection are covering my heart, she explained. Well, repeated heartbreaks over the last few years will definitely cause some reluctance to be vulnerable and to let someone in completely.
Finally get this, she also told me that she could tell I was slimmer at one time, that I'm currently holding on to some extra weight in my mid-section, and could be slimmer again. It was the truth reflected back to me on several levels and I wasn't offended by this coming forward.
It was in that moment, it all made sense. I realized how heartbreak over the last few years and how my uncomfortableness with attention (even though I desire positive attention and being seen for who I am and everything I am) has kept me from fully embracing being in my body completely. I've been hiding within in own body!
I've literally been carrying some extra emotional and physical heaviness within me. No wonder why, my Irritable Bowel Syndrome (IBS) is on the fritz every week! I'm not intuitively eating right for me and sending enough love and attention to my digestion, so it gets all the nourishment it needs. This is all despite eating really healthy and the regular exercise lifestyle I engage in. Despite the acupuncture, the colonics appointments, the supplements, the daily green juice. How frustrating. How liberating to know.
All this lack of energy moving within me is acting as a block for me receiving love into my life. And with knowing all of this, I commit to the breath work in the morning and night and any time I notice the shallow breath. I recommit to intuitively eating again and sending loving kind thoughts and energy to my stomach and body. I allow myself to feel light, healthy, and liberated again from the inside out.
I commit to letting go even more. I release, I surrender, so I can receive.
C&R Self Mindfulness Mantras:
"I release, I surrender, so I can receive."
"I trust myself. I believe. I love myself."
Related Articles
Let Someone Else Shine…
Why I'm Letting Go of Long-Term Goals…
Waking up to Your Life…
Forgiving Myself…
* * * * * *
Sarina is currently working on her first book, Courageous & Remarkable Self: How to Take Risks, Live More Intentionally, and Travel the World Fearlessly.
Did this blog article resonate with you? Then like it, share it, and/or comment below. I personally respond to all comments on the blog. Also, be sure to Join the Courageous & Remarkable Self Movement–it's FREE! Sign up to make sure you're first to know about updates and C&R Self strategies. Also, be one of the first to get the Fearless World Traveler Checklist (my gift to you!) that I'm creating especially for you, Courageous & Remarkable One!
Thank-you for being part of the C&R Self community by reading and sharing your thoughts. I honor you. Namaste!
Let's stay connected!
Join the Courageous & Remarkable Self Movement.
So I can keep supporting you!