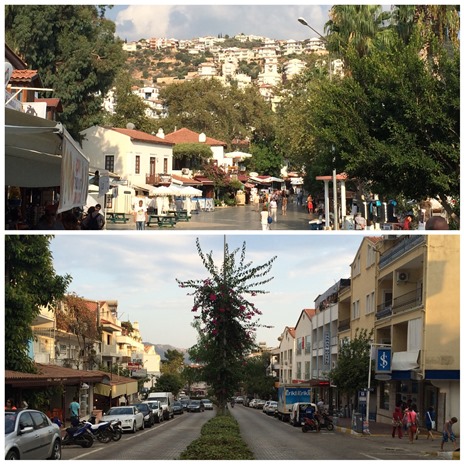 Somehow, I traveled to one country in my last adventure, Turkey, though ended up in two continents, Europe and Asia. That's right! Did you know that Turkey is a transcontinental country with only about 5 or 6 cities on the Europe side? Well, I didn't either before my trip. Oh, another fun fact, Istanbul is the only city in the world split between two continents. And the current capital of Turkey is actually Ankara these days. Just some trivia knowledge for you in case you ever find yourself needing to answer these questions.
So today I'll be sharing a few true stories and traveler survivor insights from my recent adventure to Turkey with the GAdventures tour group. Besides that I'll also speak about how to really make your trip memorable (whether near or far) and life-changing.
What to do in Turkey when…
Wandering through Istanbul on your arrival day with your friend and can't seem to find your way back to the hotel to make it to the first tour group meeting. You make friends with the locals and coffee shop baristas, while you continuously politely ask for your way back after a few street turns, as everyone keeps giving you ambiguous directions. Also you keep breathing, stay calm, keep your focus, knowing you'll make it back soon enough and safely.
Friends and family are concerned about your safety, since you're traveling in a country that is near the Middle-East and there's much world-conflict going on in the surrounding countries. You thank them for their concern, reassure them that you're fine and with a tour guide, and have travel insurance, in case you do need to evacuate the country for any reason. By the way, Turkey is one of safest countries I've traveled to in the last few years.
Public toilets have two lines. You go with the squat toilet, because it's the shorter line and easier, believe it or not. And since I already had experience from traveling to SE Asia, I found myself giving lessons to the other ladies. One hint, roll up your pants to your mid-calves, so they don't get wet, and squat like you would if you were hiking in the woods. (And no worries, the hotels have western toilets).
Sinusitis is coming on strong and you're only 3 days into the trip and really need those allergy pills you somehow lost along the way. Antihistamine comes to your rescue from a pharmacy with the help of your tour guide explaining to the pharmacist what you need.
You're constantly on the go in a different place every day on the trip. Yes, fascinating and making the most of your vacation time. Though can be exhausting and difficult for your body to catch up and relax. So check in with yourself on what you really need when you have some free time. Feeling like an afternoon nap or a leisurely lunch, rather than seeing another museum? Longing for a peaceful morning run under a canopy of trees? Go for it, and forget Fear of Missing Out (FOMO). Your mind and body will thank you for listening.
At the homestay with a Turkish family, you come to realize that you're sharing one house and one bathroom with fifteen of your new tour friends and the tour guide, when you anticipated you would've been divided amongst several homes. You accept the situation for what it is. And quietly make your way to bed early for a quick shower run, while the group is out on the front porch playing camp circle games.
You're feeling beyond dehydrated and have a nice dose of heat exhaustion (and feel so bloated because you left your probiotics on the kitchen counter with those allergy pills!). Well, you go on a watermelon mission, buy it from a street vendor, carry it through the town and take it with you on the overnight boat on the Mediterranean Sea, but of course! I learned the best time to travel to Turkey in the warmer months is May and Sept.
Sleeping on a boat in the Mediterranean Sea on the top deck under the stars. You take a few moments to appreciate it, admire the spectacular sight and stillness of this once-in-a-lifetime experience. You're in Turkey! Feeling so content and relaxed right before you drift off to sleep.
Once-in-a-lifetime experiences may come with moments when you'll be roughing it at times or having to adapt to the unknown or what you can't control. Get comfortable knowing there will always be some unknown. And know there's always a way through it. Allow yourself to be in the moment for what it is. This time will pass like all the others.
Simply why I've become a Travel Junkie and love to take off to foreign places. It teaches me more about life. It teaches me what I may have been missing and how to come back to myself and most importantly how to become more graceful with the unknown.
May you embrace life as an adventure where ever it may take you. Namaste loves!
P.S. Let's connect on my Instagram page (SarinaTomel), where I share photos from my trip and other adventures. See you over there!
Take C&R Self Approach to Traveling:
Dedicate your trip to an intention that's meaningful for you.  

 

Love. Forgiveness. Compassion. Releasing fears. Releasing excuses.
Make it memorable. Make it life-changing.
Make it an adventure for working through what is challenging you in life at this moment.
Select activities that allow you to focus on this throughout the trip.
Make the effort to seize this opportunity while you leave your everyday distractions and excuses at home.
Make it happen. You deserve to live a life full of passion and adventure. A life that radiates love and happiness everywhere you go and with whom you choose to share it with.
Related Articles
Celebrated my birthday in Cappadocia. And that's not all…
Forgiving Myself…
My Real Reasons for Traveling the World Fearlessly…
Standing on the Ledge of a Mountain…
* * * * * *
Sarina is currently working on her first book, Courageous & Remarkable Self: How to Take Risks, Live More Intentionally, and Travel the World Fearlessly.
Did this blog article resonate with you? Then like it, share it, and/or comment below. I personally respond to all comments on the blog. Also, be sure to Join the Courageous & Remarkable Self Movement–it's FREE! Sign up to make sure you're first to know about updates and C&R Self strategies. Also, be one of the first to get the Fearless World Traveler Checklist (my gift to you!) that I'm creating especially for you, Courageous & Remarkable One!
Thank-you for being part of the C&R Self community by reading and sharing your thoughts. I honor you. Namaste!
Let's stay connected!
Join the Courageous & Remarkable Self Movement.
So I can keep supporting you!