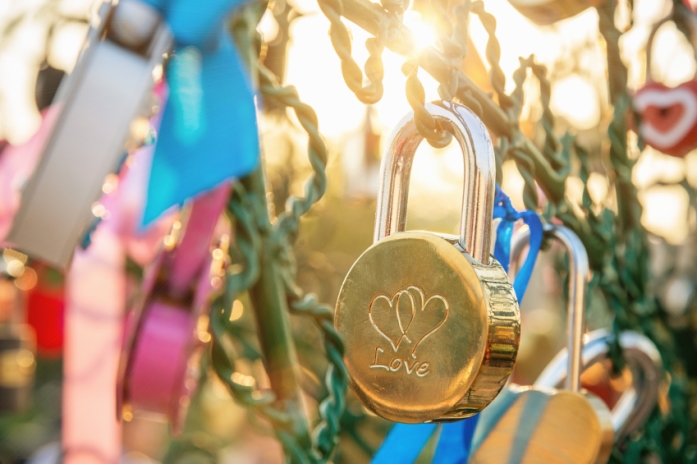 Being deeply committed to taking actions I need to that would allow clearing of any love blocks, I found the courage to have some profound heart-opening conversations with my dad. Let me share…there were tears, there was laughter, and there was this awakening of the truth that was hidden in every one of those talks.
Even more remarkable was the heart-open-walls-coming-down-unconditional-love feeling that I received as a result of these chats. It was amazing and unexpected. This is what happens when we choose to show up in a vulnerable way, rather than not disclose that everything isn't so perfect or we're not doing as well as it may seem.
I told my dad I was struggling. I let him know that I was feeling this desire to hide and not really date right now. At the same time, I shared with him that I'm conflicted and I realize I can't control the timing of when my husband will show up, when I would get married and when I would have children. I let him know how my setbacks this past year were bringing up all sorts of fears and doubts in me.
I shared how I admired and appreciated everything he did for my siblings and me as a father and how I saw him as a role-model. I decided as a little girl I was going be a career woman and be independent enough that I could take care of myself financially without a man.
Then I admitted something that I've said before, but it felt different this time. That is I grew up wanting to be "perfect" and nothing like my mother. Next, my questions came. Because I needed to hear my dad's love story of my parents from his perspective. So I could rewrite the story in my mind as a grown woman seeing my parents and their relationship with more love and compassion.
We've talked about what he thought he could have done differently in my parents' marriage, what made him fall in love with my mother and out of love with her. A-ha moments happened for me when I heard my dad explain to me the dynamic of their relationship even though I had witnessed it while growing up.
He was doing the best he could in that situation. My mom was doing the best she could in her situation. Then the moment came when I had to ask my dad, so I can stop seeking approval from other men and show up differently in relationships:
"Daddy, do you believe that based on who I am and everything I've been through that I am worthy and good enough to attract the right partner for me?"
His immediate response, "Of course. Why not?"
Exactly the reassurance and unconditional loving response I needed to hear. As soon as those words were spoken, I literally felt that double-lock over my heart open and warm energy come through once again. That excitement filled with anticipation and knowing it was possible. And that anything is possible. There's nothing quite like having your faith restored to focus on the possibilities.
One thing is for sure, the internal shifts I experience every single time I have these talks with my dad, makes me want to continue to show up, be vulnerable, and go deeper to uncovering my truth. It's healing and transformational at the same time.
All in all, it's about coming to this: Acceptance of what was. Acceptance of what is. Awareness of any patterns that may be playing out in my current life and relationships. Finally, choosing to show up with more love and compassion. Namaste!
Take Action Now to Honor Your C&R Self:
One Approach – Decide to ask that question or have that conversation with that one person you have been reluctant to. Think about your approach and how you will begin that conversation to encourage openness and an honest response.
Another Approach – When you're triggered by any anger or resentment or disappointment or frustration, ask yourself one simple question, "How can I see this from a place of love and compassion?" (Awareness/Reframing the situation) or "How can I show up from a place of love and compassion?" (Action to shift)
Then ask yourself the follow up question, "What is the lesson here for me to learn?" It's not about overthinking this question. Ask the question and let the answer hit you through that inner voice of truth through your mind, through a book, or through another person. You'll know it, when you feel it resonate deeply. That's your intuition talking to you. Honor it.
Related Articles
Forgiving Myself…
My Real Reasons for Traveling the World Fearlessly…
Racing to the Altar; Stop Now!
Manifesting Your Presence of Greatness!
* * * * * *
Sarina is currently working on her first book, Courageous & Remarkable Self: How to Take Risks, Live More Intentionally, and Travel the World Fearlessly.
Did this blog article resonate with you? Then like it, share it, and/or comment below. I personally respond to all comments on the blog. Also, be sure to Join the Courageous & Remarkable Self Movement–it's FREE! Sign up to make sure you're first to know about updates and C&R Self strategies. Also, be one of the first to get the Fearless World Traveler Checklist (my gift to you!) that I'm creating especially for you, Courageous & Remarkable One!
Thank-you for being part of the C&R Self community by reading and sharing your thoughts. I honor you. Namaste!
Let's stay connected!
Join the Courageous & Remarkable Self Movement.
So I can keep supporting you!