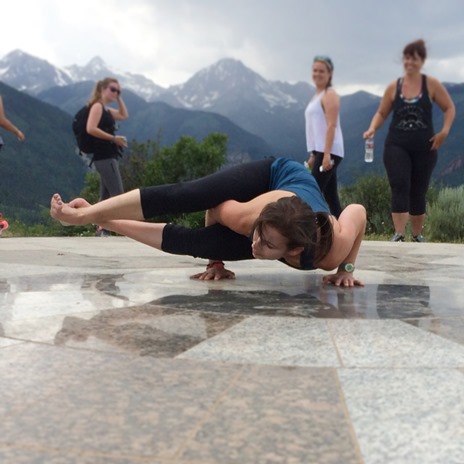 Intuitively, I knew the Wanderlust Yoga Festival in Aspen/Snowmass, Colorado was where I had to be this summer. Because my heart fluttered and immeditately happiness came over me, the moment I watched the Find Your True North video with scenes of the festival.
It all seemed so magical to be in the magnificent mountains and ski town for practicing yoga choreographed to live music or DJ with celeb yoga instructors like Elena Brower, Gurmukh, and Schuyler Grant.
The wait had been two years for me. Since other commitments and timing wasn't right before then. Though getting to Aspen/Snowmass wasn't quite that easy for a traveler from out of state. I flew into Denver, Colorado to visit one of my Tulum sisters and yoga instructor, Jenna, (met at the Tulum yoga sisterhood retreat), in Boulder, Colorado. Then a few days later, we did the scenic road trip (about 3.5 hours) through the breath-taking canyons in the Rocky Mountains to Aspen/Snowmass to arrive at the Wanderlust Yoga Festival. (Really fortunate to find a reasonably priced flight home out of Aspen Airport.)
What was there not to love about the setting and the festival?!
Yoga in the mountains. Daily hiking trips. Meditation for clearing the Chakras. SpeakEasy Talks. Mesmerizing Wanderlust Speculator Yoga shows (think AcroYoga Cirque du Soleil). AiReal Yoga (flying yoga with silks). Camp fire Music. Spiritual Gangster everything (hello, new yoga/crossfit workout wardrobe!). Gluten free Falafel over Greek salad.
However, something unexpected happened. I began to feel frustrated during my yoga practice. Frustrated not in the sense of I couldn't get into a pose. (That happened to me, but that wasn't the cause for my annoyance.) More frustrated feelings of actually being in the practice. I think I noticed it after taking a second yoga class or double yoga class in the same day. Felt up against myself and my limits, and I felt it hard.
Being that yoga practice is a mirror for what's going on inside the mind and body, and life off the mat, I felt annoyed being unable to pinpoint exactly why I was feeling this way.
All I knew was it must have to be related to some kind of frustration not being expressed in my life. I wondered…Could the frustration be about where I am in my life and where I think I should be? Maybe it's a feeling of being stuck, stuck in place of where I no longer want to be. Maybe a strong yearning for change. So I just noticed it for pondering later about it. And I still haven't gotten quite to the answer of it.
On the other side, what made me beam with joy…Taking yoga pose photos on the hikes and on top of the mountains, and then striking a yoga pose anywhere and everywhere. It made me realize how far I've come. It made me absolutely happy. It captured the essence of the moment for me. Because I never thought I'd be able to get into certain fancy-yoga-strong poses. I never thought I'd be flexible enough or strong enough. I never thought I'd be able to figure out how to get into these poses. Now I realize that's not true. Now I deeply appreciate my expansion that has come through yoga and beyond yoga.
Wanderlust, thank-you for the memories and allowing me to open my heart even bigger and to shine brighter! Wanderlust, we'll meet again, at another time, at another location.
May you admire the view of how far you've come. Realize what's not true. And appreciate your expansion.
Related Articles
Oh, Resistance, you almost had me…
You're Allowed to Change Your Mind…
Why I'm Letting Go of Long-Term Goals…
Forgiving Myself
* * * * * *
Come on over and let's connect on Instagram! I've been sharing travel photos, inspirational notes, and more frequent updates over there that I don't want you to miss. So much fun and adventures!
* * * * * *
Sarina is currently working on her first book, part-memoir/part self-help, Courageous & Remarkable Self: How to Take Risks, Live More Intentionally, and Travel the World Fearlessly.
Did this blog article resonate with you? Then like it, share it, and/or comment below. I personally respond to all comments on the blog. Also, be sure to Join the Courageous & Remarkable Self Movement–it's FREE! Sign up to make sure you're first to know about updates and C&R Self strategies. Also, be one of the first to get the Fearless World Traveler Checklist (free gift!) that I'm creating especially for you, Courageous & Remarkable One!
Thank-you for being part of the C&R Self community by reading and sharing your thoughts. I honor you. Namaste!
Let's stay connected!
Join the Courageous & Remarkable Self Movement.
So I can keep supporting you!