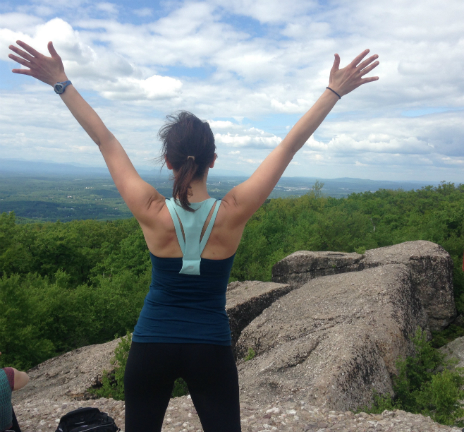 Following the precise steps of the hiker in front of me, I chanted mantras (in this case out loud to keep focus), "One with the rock, one with rock, one with the tree," until I safely made it through the bouldering cliff climb upward and onward. I carefully fangled my way around each enormous rock and reached for the tree trunk to my right, realizing I was on a ledge of an undetermined height (I told myself not to look over my right shoulder, because it didn't matter, I had to keep going.) This was just one of the many moments along the edge of Schunemunk Mountain, an 8-mile hike with Discover Outdoors, taking us through changing terrains of trails and stones that we had to navigate through.
Courage and my curious desire to conquer and experience being on top of the Megaliths allowed me to push aside my fears (heart palipulations) of slipping off a few narrow flat surfaced mega rocks I had to climb first to get there. With the helping hand of the tour guide, Paul, from the level of the rocks below, I was able to lift myself up and keep my balance as I stepped up.
Call me CRAZY, but I get an adrenaline rush from thriving beyond and conquering these risk taking experiences. Always seems to center me and elevate me to climb to new heights on the hike, and then through my everyday life hurdles of staying ahead of myself rather than getting stuck. All while keeping my passions for life in mind motivating me forward. And also encouraging me to keep chasing my desires (becoming an author, expanding on the C&R Self movement) to stay connected to making a positive impact in your life. So that you feel empowered to live your life full of intention and passion, regardless of what you think needs to happen first like that relationship or higher salary. Because that's not a requirement to do so.
Oh, by any means, I wasn't always this daring. Daring to say yes to new experiences, yes to step out of my comfort zone and embrace change, and yes to living more intentionally. I actually was once one of those people who'd resist and run from change. Only in the last say 10 years did I deliberately seek out change…starting with returning back to school to get my Master's while working full-time, completing a coaching program, ending a seven-year relationship at age 30, to learning to love something I hated, running, which completely shifted my life.
As I've said before there's something that completely shifts you when you're back in nature (even outdoors in your own neighborhood) immersed in an activity. You're able to clear your mind. You're able to step away from your troubles and get clarity on what to do next. You're able to see the world around you with a new perspective. You feel more calm and a genuine happiness. All of this emerges, simply because you've changed the scenery. Because you have also deliberately switched into an environment that is forgiving and nurturing. You have said YES to yourself and made it a priority. And most importantly, you have decided to shake up your routine and open up your horizons.
Isn't it about time to start or get back to something that you've missed? You deserve to live a life full of passion and adventures. Take your next step in climbing your mountain, while not looking over your right shoulder, rather keeping onward! I'm here to support you in doing so, Courageous & Remarkable One. Namaste!
Take Action Now to Honor Your C&R Self:
So I challenge you to embrace one change that you've been reluctant to do. Perhaps you sense it's time for a change somewhere in your life.
What's one thing that you can decide on that you're going to learn to love that you've never thought you could? Tell me below what that is for you and what's one action you'll take within the next 2 weeks to get started.
Know that many small steps lead to big change. Do what you can today; the guidance of what's next will follow.
Related Articles
How to Solve Your Biggest Problems with Adventures (11 Ideas Included)!
My Real Reasons for Traveling the World Fearlessly…
How I became Volcano Vixen! Recognize when to Seize Opportunities in Life! (Also featured on HuffPost)
Ziplining & Facing My Fears to Step into My Greatness! (Also featured on HuffPost)
From Chaos to Flowing with Life!
Nine Ways of Redefining Liberation in Life…
* * * * * *
Sarina is currently working on her first book, Courageous & Remarkable Self: How to Take Risks, Live More Intentionally, and Travel the World Fearlessly.
Did this blog article resonate with you? Then like it, share it, and/or comment below. Also, be sure to Join the Courageous & Remarkable Self Movement–it's FREE! Sign up to make sure you're first to know about updates and C&R Self strategies. Also, be one of the first to get the Fearless World Traveler Checklist (my gift to you!) that I'm creating especially for you, Courageous & Remarkable One!
Thank-you for being part of the C&R Self community by reading and sharing your thoughts. I honor you. Namaste!
Let's stay connected!
Join the Courageous & Remarkable Self Movement.
So I can keep supporting you!