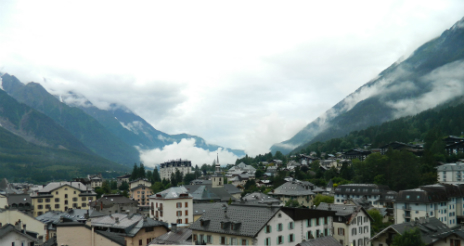 Ever feel like you're always thinking about what's next to accomplish or what to tackle for that day? Do you take time to sit still in awe and properly honor what you've just achieved, how much you've grown, and what you've learned before you move on to the next?
In the world we live in, (and especially in NY where I'm from), we tend to be always constantly on the go, and try to exceed what we've done already.
At times, there's this pressure to keep up with what everyone else is doing. And corporate life encourages and thrives on us being in this fast lane of "Okay, check that off. It's done. What else do we need to get to?" It's no wonder why we feel like something is missing or like we may not be living an intentional life!
And if that's the case, we're most likely asking, how did ever get to be this way? Maybe this situation is yours. I definitely get this and have fallen victim to this myself. It's so easy to allow this continuous cycle of so what's next to happen.
Call it perfectionism, call it type A personality, call it success addict, or whatever you want. It doesn't really matter what you call it. Instead look at your behaviors for clues on your approach. Really what matters is that it doesn't have to be this way, and today a new day, a new beginning, another chance to end this madness.
If I may, let me share how I'm taking time to stop this pattern of So What's Next and to honor myself right now.
As you may know, I recently finished my book proposal (business plan to sell the book), which consumed the majority of my free time for months and months. I had to make sacrifices and be selective in how I spent my free time. I declined some social invites that would've been an all-day event or a weekend affair. I had to limit my distractions, so I could stay focused on my goal and meet this book proposal deadline.
In the same respect now, I'm taking a breather because I recently achieved this goal. Right now, I'm being selective in what I choose to do next. I'm allowing for space in my life to honor what I've accomplished and for what's to come.
I'm allowing for creative energy to flow and to catch up on some things I've postponed. Like revisiting some creative ideas and future C&R Self projects, devising my strategy plan for the year, finally getting around to fixing that cable modem/router (rather than reset it 3x day!), and taking a day trip to NJ to visit dear friends and their kiddies!
I'm choosing to honor myself right now, right here. Rather than move on to what's next, or what other people think I should be doing. I'm slowing down, paying attention and listening to my intuition. Rather than making some quick decisions and taking action right away. Rather than hustle, hustle, at the moment. Instead, I feel called to take time for myself.
I'm getting more acquainted with myself, and taking better care of myself. I'm getting more sleep and cooking new healthy delish meals for what my body needs and craves. And having fun doing so! I'm engaging in my C&R Self practice of letting go of fears, doubts, self-limiting beliefs, and not-so-good habits that no longer serve me.
Let me give you permission now to properly honor what you may have achieved (whether this week or a few months ago) or learned recently. It's your time to take a moment.
To rejoice. To sing and dance. To get yourself that nice pair of shoes or massage or to book that exotic vacation you've been thinking about because you've earned it. You're worth it! Start living an intentional life today.
The divine in me honors and recognizes the divine in you. Namaste!
Take Action Now to Honor Your C&R Self!
Ask yourself and really consider, is it your time to hustle, hustle or is it your time to pause for a moment to truly honor what you've accomplished or learned recently?
If it's time to hustle, hustle, then what will that be for you?
If it's a moment to rejoice, then how will you do so?
Tell me what moment it is for you right now, and how you'll cherish it!
Related Articles
Get the Most out of Life Right Now!
Learn to Love Something You Hate –Shift Your Life!
I Just Couldn't Take it Any Longer…
Performance Reviews & Keeping Your Self Worth!
* * * * * *
Sarina is currently working on her first book, Courageous & Remarkable Self: Take Risks, Live More Intentionally, and Travel the World Fearlessly.
Did this blog article resonate with you? Then like it, share it, and/or comment below. Also, be sure to Join the Courageous & Remarkable Self Movement–it's FREE! Sign up to make sure you're first to know about updates and C&R Self strategies. Also, be one of the first to know when C&R Self is accepted by a publisher as a book and all the exciting updates to come. Namaste!
Let's stay connected!
Join the Courageous & Remarkable Self Movement.
So I can keep supporting you!