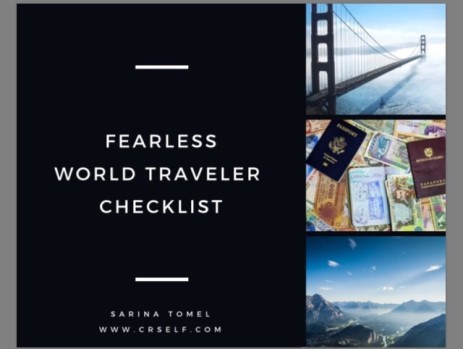 Hi Courageous & Remarkable Ones! Wow, we've got so much to catch up on! I've missed you all! I know many of you have stayed connected with me the last few years on Instagram, which I so appreciate. I really love sharing and chatting about photos and practical strategies (focused on travel, adventures, mindfulness, intentional living), as well as inspirational notes and mantras with you. Here's what I'd like to offer you, announce, and what you can expect from me this year:
Fearless Traveler Checklist (Freebie!), click here to download or complete the sign up form on the site, and start planning that next trip, near or far, adventure or relaxing one. Because it's about time, you made that a priority. There will not be the most perfect timing. Nothing replaces time, though experiences, memories and photos will live on, and travel will deeply change you. Now that's priceless!
You'll be the first to know about Beta Reader opportunities for my memoir, that's right! Call for readers to share their honest feedback on the book that I've been writing for years now before anyone else has a chance to get their hands on it. That book about running, heartbreak, travels/adventures, health crisis, workplace drama, and how I showed up for all of this. Stay tuned!
I promise to stay in touch with you more often and on a regular basis. You can expect to receive about once a month updates in your inbox. (I know you're busy, have tons of emails coming at you, so let's drop the overwhelm, keep it easy, and not forget about each other, okay?)
And if you'd like to connect more frequently than that, come on over and let's connect on Instagram! Like I mentioned earlier, I've been sharing travel photos, inspirational notes, and more frequent updates over there that I don't want you to miss. So much fun and adventures!
And if by any chance, you know of friend or coworker or anyone else, who'd be interested in receiving the Fearless Traveler Checklist and/or becoming a Beta Reader or maybe like some travel or life encouragement? Then have them come on over to join the C&R Self community (www.CRSelf.com, and sign up to receive it as well!) and connect with us over on Instagram! Can't wait to meet them. And you need to be on the list to get in on these incredible offers!
Finally, please, please, please, tell me about your travel plans for this coming year. I want to know! Maybe we can exchange travel stories? So write back, simply hit reply on this email and tell me where you'll be going (even if hasn't been booked yet!) and what experiences you anticipate having when you get there.
I deeply honor you. Thank-you for being part of the C&R Self community! Namaste. – Sarina
Let's stay connected!
Join the Courageous & Remarkable Self Movement.
So I can keep supporting you!