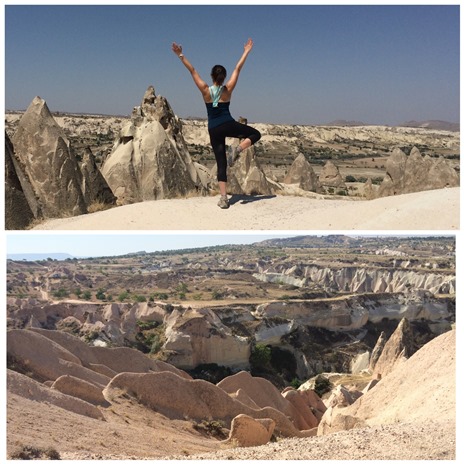 About a year ago, I made a promise to myself that for as long as I'm single and without children, I would travel in the same month as my birthday. And so in keeping with that promise, I ended up in Cappadocia, Turkey on my actual birthday. For the first time, I didn't worry or have major expectations about my actual birthday plans. I knew I'd be in Turkey on my GAdventures tour and with my friend Abby and would celebrate somehow or another.
Honestly, I was beyond thrilled to just be out of the country. It had been a more than a year since my last international adventure trip. As the trip approached, I looked closer at the itinerary and realized 5 days into the tour, we'd be in Cappadocia. What I didn't really know was what the exact plan would be for that day.
You know something. It became one of my most memorable birthdays with an invigorating hike of about 3 hours (4.5 miles) and practicing yoga in the valley and mountains (formed by volcano settlement thousands of years ago) of Cappadocia, Turkey. Followed by a pottery workshop (got myself a fancy serving plate as a gift to myself!). Then in the evening a dinner and Turkish dance show, where I found myself dancing with the dancers in the last dance of the show.
By simply only making a decision to get on a 10 hour flight and be in a place 7 hours ahead of NY, while also releasing my expectations and what I couldn't control, allowed me to embrace my birthday and the adventure in a remarkable way. It was exactly what and where I needed to be at that time.
Before I left NY, I dedicated this GAdventures tour to my practice of staying committed to releasing my fears, practicing forgiveness and compassion, and always returning to love. It has been one of those years that have tested my faith and patience in everything working out well.
It's been a year of inner work and reflection, for sure. I've been preparing. I've been clearing blocks. I've been learning how to really love myself despite being perfectly imperfect. And that my happiness isn't determined by me physically looking a certain way.
While on the Turkey trip, I read the classic, A Return to Love, Reflections on the Principles of A Course in Miracles, by Marianne Williamson. Let me share. So many answers and much reassurance have come through this book.
Besides reading, I've been praying and forgiving for months now, asking to see all challenges in a more loving way, asking to find the compassion to show up as the woman, I know I'm meant to be. Not the victim. Not playing small or hiding from the world. Not from being reluctant to really committing to my dreams and sharing my heart and voice with the world. It's been emotionally exhausting and I just needed to finally surrender this inner conflict to the Universe.
And that's not all. I've been meditating on a more consistent daily basis. I've completed a 40-day meditation practice for a Kundalini Liberation Kriya and now I'm 20 days into the Backpack Meditation #3. I'm going deeper. My inner self is saying Yes, Yes, Yes to this practice! With more time and patience I will evolve into the woman I'm meant to be. I will become that vibration match for my dreams to catch up to my reality. It's just not always on my time. The Universe has a bigger plan for me. I can feel it. I know it.
May you live intentionally, release what you can't control, forgive those who don't live up to your expectations (including yourself) and embrace the here and now. Namaste loves!
P.S. More to share in my coming blog articles on my adventures and insights from Turkey! And let's connect on my Instagram page, where I share photos from my trip and other adventures. See you over there!
Related Articles
Enough is Enough… (And Mindfulness Approach with 5 Self-Mantras)
Forgiving Myself…
Racing to the Altar; Stop Now!
My Real Reasons for Traveling the World Fearlessly…
Standing on the Ledge of a Mountain…
* * * * * *
Sarina is currently working on her first book, Courageous & Remarkable Self: How to Take Risks, Live More Intentionally, and Travel the World Fearlessly.
Did this blog article resonate with you? Then like it, share it, and/or comment below. I personally respond to all comments on the blog. Also, be sure to Join the Courageous & Remarkable Self Movement–it's FREE! Sign up to make sure you're first to know about updates and C&R Self strategies. Also, be one of the first to get the Fearless World Traveler Checklist (my gift to you!) that I'm creating especially for you, Courageous & Remarkable One!
Thank-you for being part of the C&R Self community by reading and sharing your thoughts. I honor you. Namaste!
Let's stay connected!
Join the Courageous & Remarkable Self Movement.
So I can keep supporting you!