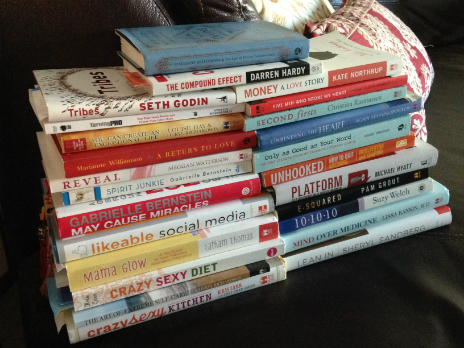 Previously, I had shared the approach of Becoming a Force to be Reckoned with! At this time, I have a few more life-changing, create a revolution resources/books to share you! So much abundance available to us when we are open to receiving. This is the first year I've read so many books for leisure/development purposes, as opposed to academic reasons.
I just can't stop myself. About a week ago, a box arrived from Amazon with five new books! Last weekend, I attended the NYC Book Launch party for a fellow BSchooler, Christina Rasmussen, Seconds Firsts: Live, Laugh and Love Again. My sister says the living room is looking like a library these days with books stacked on the edge of the couch. As if that's such a terrible thing? Maybe she'll read along with me. (Hint, Hint, Amanda!)
Since earlier this year, I've been honoring my commitment to myself with having a continuous practice of Stepping into My Greatness throughout the year.
I practice staying connected to my inner authentic self through yoga, running, dance liberation moments, self-mantras, self-affirmations, prayer and meditation. Another way is through dedicated self-development through books, seminars, conferences, programs, coaching groups, and retreats.
My intentions of this approach to life are preventing a relapse of letting my self-limiting beliefs, doubts and fears get the best of me. I've had enough with the inner conflict of being torn of where I am today and where I know I meant to go. It was time to drastically step it up!
I wanted to feel supported and connected to the practice, to my life purpose/calling, and to other like-minded individuals. And today, I'm sharing with you the works of people who I consider my role models/teachers! May it inspire you to Show up in Life and Step into Your Greatness!
A Few More C&R Self Must Read/Change Your Life/Create a Revolution Book List
■ The Compound Effect: Jumpstart Your Income, Your Life, Your Success – Darren Hardy (reading now!)
■ Seconds Firsts: Live, Laugh and Love Again – Christina Rasmussen (reading next!)
■ Five Men Who Broke My Heart – Susan Shapiro (Lifetime moving coming out soon – reading now!)
■ Only as Good as Your Word: Writing Lessons from My Favorite Literary Gurus – Susan Shapiro
■ Unhooked: How to Quit Anything – Dr Frederick Woolverton and Susan Shapiro
■ Mind Over Medicine: Scientific Proof that You Can Heal Yourself – Lissa Rankin, MD
■ Money A Love Story: Untangle Your Financial Woes and Create the Life You Really Want – Kate Northup (started reading)
■ Platform: Get Noticed in a Noisy World – Michael Hyatt (just finished reading)
■ Lean In: Women, Work, and The Will to Lead – Sheryl Sandberg
■ Likeable Leadership: A Collection of 65+ Inspirational Stories on Marketing, Your Career, Social Media & More – Dave Kerpen (Kindle book)
■ Live Your Why – 24 Authors from Defyeneurs – Directed by Gerry Visca http://defyeneurs.com/the-books/
■ E-Squared: Nine Do-it Yourself Energy Experiments That Prove Your Thoughts Create Your Reality – Pam Grout
■ Mama Glow: A Hip Guide to Your Fabulous Abundant Pregnancy – Latham Thomas (guide w/delish vegan recipes!)
■ Reveal: A Sacred Manual for Getting Spiritually Naked – Meggan Watterson
■ 10 – 10 – 10: A Fast and Powerful Way to Get Unstuck in Love, at Work, and at Home – Suzy Welch
Keep that momentum going…Shift your Mind, Shift your Heart, Shift your life! Namaste! (Click to Tweet!)
Related Articles
Take on the World & Becoming a Force to be Reckoned with
How to Conquer Disappointment and Show it Who's Boss!
Fear of What's to Come & Choosing to Step into My Greatness!
Fear of Success & Feeling Overwhelmed about Your Big Life Plan
* * * * * *
Did you feel inspired by this article? Know of someone who would appreciate this article? Then be sure to like it, share it, and/or comment below. Also, be sure to Join the Courageous & Remarkable Self Movement! Sign up to get even more Insight, Strategies, and Stories that will move you towards Recognizing and Embracing your Courageous & Remarkable Self! Namaste!
Let's stay connected!
Join the Courageous & Remarkable Self Movement.
So I can keep supporting you!