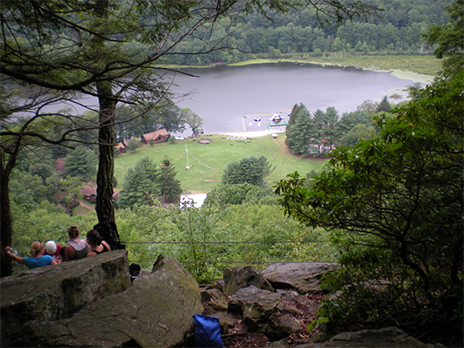 Here's to new adventures, good times, and stories to tell for years to come!!
Two weekends ago, I found myself with two of my close friends, Erica and AnneMarie, at Club Getaway getting reacquainted with our inner adult camper, adventurous selves, and lodging in rustic cabins.
On the first day, we hiked the Appalachian Trail for two hours and we conquered Caleb's Peak and St John's Ledge with a rainforest like experience on the way back. Steady, Safe, Strong!! This was the Self Mantra that I began to chant with my girls all the way back down the mountain trail to the bus making sure we didn't slip off the rocks or ledges. It was definitely a fun time, with laughs, and adventures at Club Getaway even in the down pouring rain!
Another fond memory of this weekend was being at the midnight campfire making s'mores and being held in the arms of possibility, as we sang along with the acoustic guitar player to all the familiar classic camp songs – such as American Pie and Leaving on a Jet Plane.
Then the next day, it was another day of connecting with nature and the mountains through Yoga and a Hiking/Rock Climbing adventure! Although I've never really considered myself a risk-taker, nowadays I continue to step more and more outside my comfort zone and I'm learning to take more calculated risks. Always assess the risk before taking a leap of faith.
During the Hiking/Rock Climbing experience, there was a second when I started to have some doubts of whether or not I really wanted to rappel myself down the 35 foot ledge backwards, trusting that the ropes, myself, and the rock climber instructors were all going to keep me safe and secure. So what did I do? Well, of course I had to assess the risks. I watched three other adult campers rappel themselves down and rock climb back up fine, and I figured if they can do it with all the gear (helmet, harness, rope), then I can do it!
It was at that moment, this inner calm came over me and I was ready to trust myself to take a leap of faith to rappel myself over that ledge leaning backwards with my feet about 45 degrees perpendicular to the rocky mountain side. Basic instructions were given before I got started with continued verbal guidance as I was slowly lowering myself down with my strong right hand gasping the rope behind me supporting me and my left hand above to control the timing. Climbing back straight up a mountain ledge was no easy task and initially it appeared less terrifying than rappelling myself down, which was not the case. I wasn't quite sure how I was going to manage this after having an unsteady footing and losing my grip for a moment. As I learned, it's about focus and getting your feet steady in position, then finding ledges or rock bulges to grab to pull yourself back up. What a workout it was! All muscles were engaged – core, arms, shoulders, back, legs, and butt.
Having this experience of the incredible views of the camp from the top of the mountain and the sense of triumph from Hiking/Rock Climbing made this adventure the ultimate one of the weekend! Definitely, I would have regretted it, if I had let my fears get the best of me and decided not to go through with it.
As in Rock Climbing and in life, glance back only for a moment if you must, but choose to focus on what's in front of you in that very moment, otherwise you may see your life slip away from beneath you. Club Getaway – thanks for the memories, giving me back my faith in the possibility, and allowing me to relax and just simply let go of having everything all figured out, at least for a weekend! Maybe I'll be back some day!
* * * * * *
Would you consider yourself a Risk-Taker? What about adventurous? How about willing to embrace new experiences – whether in school, on the job/in your career, pursuing a new goal/dream, with trying new activities/events/places, traveling some place new and/or something else?
Would love to hear your thoughts on how you embrace the unknown and new experiences! So be sure to share your thoughts below in the comments!
Finally, if you feel inspired by this article, then like it, share it, and/or comment below. Also, be sure to Join the Courageous & Remarkable Self Movement! Sign up to get even more Insight, Strategies, and Stories that will move you towards Recognizing and Embracing your Courageous & Remarkable Self! Namaste!
Let's stay connected!
Join the Courageous & Remarkable Self Movement.
So I can keep supporting you!